"All the world is a stage and we are merely players"- Shakespeare
It won't be wrong to say when you're looking for a job, an interview is your 'stage'. You are all prepared with the resume, telephonic & face to face interview but now, it's time for a professional appearance. Interview dress code is just as important as writing a resume or cover letter. An interview look is all about the first impression. You should convey a confident, smart, respectful, professional and prepared job-seeker look.
When going for a job interview, the company that is conducting it has numerous candidates for a particular vacancy. During the interview, it is therefore essential to be at the most presentable state. The interview dress code and body language should make one stand apart from other competitors. 
Search All Current & Upcoming Jobs. Click here to find over 4 Lakh+ Job Postings in India.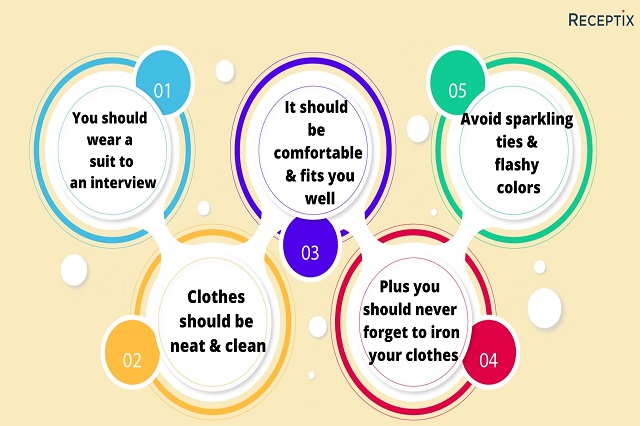 Choosing your interview attire is much like playing poker. Reading the cards, knowing the players and cultivating a winning hand is all part of the process. 
In addition to maintaining the dress code, it's very important that you are well prepared to tackle the questions from interviewers. This article on how to prepare for an interview will guide you through every step.
Interview Dress Code For Males:
Formal Interview Dress Code: 
You should wear a suit; a matching coat and pants, shirt, tie, belt, coordinate socks & shoes accordingly. A dark-colored suit with a light-colored shirt will be a great combination.

Your suit, shirt & shoes should be comfortable & fit you well so that you look more confident. Shoes should be polished & in good condition. 

Avoid sparkling ties & flashy colors for an interview dress code. 

Clothes should be neat & clean, properly ironed clothes will make you look more powerful. 
If you dress professionally, it shows respect for yourself, the interviewer, and the company. A good rule of thumb is to carry your interview outfits like your boss. Therefore, it is always wise to follow the interview dress code while appearing for an interview.
Informal Interview Dress Code: 
Let us have a look at the interview dress code for an informal interview.  
Wear long-sleeve & button-down shirts in a light color & simple design that will give you an attractive look. 

If you prefer to wear a sweater or blazer than wear a dark one that will give a decent look at a light color shirt. 

Dark cotton pants with a light-colored shirt will be a complete match. 

Socks & shoes should be well-coordinated with the trouser. 

Complement your dress code with a leather belt & watch. 
Interview Dress Code Dos & Don'ts: 
Apart from clothing, you should have fresh breath. Brush your teeth in the morning, don't smoke just before an interview. 

Take a proper bath/shower and be sure to shave or trim the morning of the interview.  

Your hair should be shampooed neat & clean. There should not be visible oil or dirt. 

Do wear a mild deodorant. Try avoiding cologne so that you don't smell overpowering.  

Add a finishing touch to your look with a classy watch. 

Carry a briefcase or portfolio file for your documents. 

Maintain neatly trimmed nails. 

Extra body piercings & tattoos can distract the interviewer, try hiding it. 
Andrew Grant says,
"You never get a second chance to make the First Impression"
so one should always try their best.
Every candidate gets the dreaded "Tell me about yourself" question. So, here we have overall information on how to turn your "tell me about yourself" from blah to fantastic.
Interview Dress Code For Females:
Formal Interview Dress Code: 
Females have a list of options for both formal & informal dress code. Some of the most commonly accepted interview dress codes are: 
Traditional Wear/Western Wear: 
Opt for a traditional Indian wear suit or a saree.

Or you can choose to wear formal dress, shirt/top with pencil knee-length skirt or trousers. 

Wear comfortable formal shoes. Make sure to color-coordinated shoes/socks that look impressive. 

You can take along a formal handbag of brown, black or pastel color to keep documents. Or you can carry a portfolio file as well. Make sure to inline your resume at the top position. 

For women, it is highly recommendable to keep hair neatly styled. 

You can have minimal makeup as well. Try to put kohl & a lip gloss so that you look refreshed. 

Compliment your

interview dress code

look with a brown or black formal belt. Do not forget to wear a classy leather or metal strap watch with your professional look.  
Informal Interview Dress Code: 
A casual cotton suit is good to go with, say no to tight fitted suits. 

Full or half-sleeve casual shirts will be a good choice for a casual interview. Prefer shirts with simple or no design. You can also opt for casual tops, however, make sure that the top has a comfortable fit.

For bottom wear, you can go with cotton trousers, palazzos, skirts as well. 

Sandals, flats, peep-toe shoes are permissible.

Do not forget to wear minimal makeup and a matching classy watch. 

Keep your hair in a neat style, you can go for a ponytail, bun, or half tied hair look. 
Interview Dress Code Dos & Don'ts: 
Make sure your overlook is neat and tidy. Properly tied hair & ironed clothes are a must. 

Avoid flashy clothes & shimmery accessories. 

Wear a mild deodorant or perfume. As well as, keep your breath fresh avoid smoking just before the interview.

The color of lip shade & nail paint should be a neutral color. 

Avoid wearing party sandals & stilettos. 
Bottom line: 
Note: It is important to remember that the interview dress code for males and females vary greatly depending upon factors like location, industry, and company.
Related Posts: