"The more you sweat in practice, The less you bleed in war" 
Our step-by-step ultimate guide will assist you on how to prepare for an interview. Moreover, you must be able to validate how you can add value to the organization.
An interview assists candidates & interviewer to know each other in person. It answers the curiosity of candidates regarding the objective of the company they will work with in the future.
"Well begun is half done"
The following tips on how to prepare for an interview will help you to grab your dream job. And help you even if you are soon to go through a video interview after you just got a job offer.
1. Get the information about the company you have applied to
Follow the blog, website & social media pages of the company
They contain information about products, services & client base. Similarly, their social media pages are helpful in getting the latest news regarding product development, as well as, services. In fact, the updated information can be useful to prepare for an interview.
Most importantly, the interviewers expect candidates to have an idea of the company. You will create more chances for yourself to be selected. So research the company thoroughly while you do the job search. Also spend time to learn some details about the hiring manager.
Dig in deep for background information
Background information comprises mission statements, revenue, strength & offices. Above all, these pieces of information will help you stand out among the rest. Certainly, the interviewers expect you to align yourself with the mission of the company. To sum up, these pieces of information will be helpful to shape your career.
2. Learn about the interviewer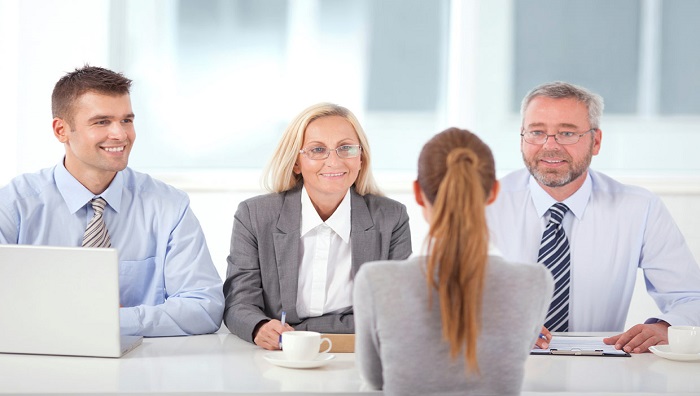 While looking to prepare for interview questions, learn in detail about the interviewer whom you have never met. Firstly, dig deep into their social media profile. Linked In can be handier. Secondly, follow their activities on social media.
This will help you understand his/her personality better. Moreover, it will be easy for you to build a cordial relation. To sum up, you can have an understanding of how to prepare for interview questions. 
3. Have complete information about the job description to pass the interview
The main purpose of the job description is to search the candidates who match the profile. Above all, it is the minimum criteria a candidate must match to fit in the job title. Your skills must align with the job description and job requirements for instance. And you should be a good fit for the company culture.
When you have a piece of detailed information about the job, you will know what is expected of you. Hence, you can build a detailed strategy for walk-in interview.
4. Prepare for Mock Interviews before an actual interview
You need to practice beforehand to analyze the weaknesses. Sometimes, you may have complete information but lack of practice may ruin everything. A mock job interview can be helpful as it contains sample answers to guide you. It helps job seekers to analyze their skill set.
Most importantly, you will need to organize the resume, cover letter, degree, mark sheets, identity proofs, photograph, etc. properly. Take some time to study them. Believe! It will be of great help during an interview.
5. Manage your social presence
Most of the interviewers would like to have a glance at your public profile to know more about you. Firstly, you will have to work on improving your social presence by engaging on social media platforms like Linked In.
Secondly, you must determine what would you like people to see. Above all, your profile must be professional. It plays a decisive role in making a difference in the interview.
These strategies mentioned above are essential tips on how to prepare for an interview. Make your dream a reality with a series of techniques to prepare for interview questions.
Read about: Most Common Interview Questions Asked
Common personality traits of candidates who stand out in the crowd:
1. They are leaders.
Leaders usually lead and inspire the team to achieve their potential. As a result, they are organized & productive. Above all, companies expect their employees and potential employers to demonstrate their leadership skills as per the situation and time. In a nutshell, strong leaders drive growth and are a source of inspiration for many.
2. They take ownership of every activity they do
Taking ownership will add value to their credibility. In fact, they will command the respect and trust of their peers and higher management.
3. Their confidence is reflected in their body language, speech pattern & clothing
Confidence builds self-esteem which adds value to your progress. This is to say, you can face a difficult situation with ease. Similarly, confidence is reflected in your thought process as well. Positive thought creates an atmosphere where everyone can make a contribution not by compulsion but with desire.
Certainly, every company would like to have such an employee for whom working as a specific professional is a passion. So take time while choosing which job to apply for.
4. They have optimum knowledge of their target company and its products, as well as, services.
When a candidate has the relevant knowledge in their niche, they can contribute more. They will have a road map to execute their skills to accomplish the task & drive growth. Moreover, knowing about a company, its products & services will help them decide the course of action.
5. They have excellent convincing skills.
Success is earned while opportunities are created.
They are effective communicators & a good listener. Above all, a good listener can present themselves effectively under any circumstance. Success depends on your ability to convince. You can accomplish most of your life goals apart from landing in interviews through effective communication.
Read about how to improve communication skills here.
Conclusion: 
You might have had a glimpse of the purpose of the interview, preparation techniques & necessary skills required to win differences. Usually, we tend to follow the crowd rather than listening to our conscience. To sum up, your achievements & accomplishments should communicate for you during the interview.
And don't forget that your interview outfit also matters a lot. Decide your outfit according to the dress code of the company. Carry copies of your resume with you.