Not happy with the way your day goes? Want to achieve more? If the answer to these questions is yes, you may want to think about the reasons. While you ponder over the probable reasons for falling efficiency, let us highlight some Time Management tips.
When your day ends with removing important tasks from your To-Do list, adequate relaxation, and a cheerful state of mind then you can say your day was managed well. You can also say that your time management for the day was good.
Want to know the secret behind achieving milestones? Click here to read a guide on Team Work Skills.
What does it take to manage your time well? Here are the best time management tips.
A Healthy Routine
The first and foremost thing to manage your time well is to have a healthy routine. You need to have a healthy routine in terms of sleeping and eating habits, as these two habits define your energy levels throughout the day. If you have good rest and eat healthily, then your body is energetic.
Sense of Direction
For good time management, you need to have a sense of direction. It means you need to have a vision of the results in any task you perform. Without direction, you can often go off the track and waste a lot of time.
Less Confusion
Confusion is good but not for too long. It is crucial that you do not leave any scope of confusion while working. Being confused can hamper your productivity to a great extent.
Stay Focused
Focus on the things that compliment your efficiency. It's important to cut off from distractions when you're working or studying. No one can manage time in a good way if distracted.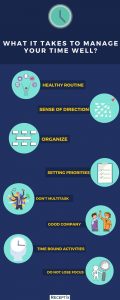 Prioritize
Each of use gets 24 hours in a day. Hence, it is important to find which task has priority over others. More time can be allotted to the things that have the highest priority. Therefore it is always better to identify priority tasks.
Evaluate Your Time
Before applying any of the time management tips in your life, it is important to check your schedule. This will help you in coming up with a great management system.
You will be able to find problem areas. For example, a task which only needs 30 minutes, takes you an entire hour. Evaluating your time will help you to set goals.
Organize Yourself
Leading life in an organized manner saves up a lot of time that leads to greater efficiency and results. Implement time tracking in your schedule. Set a time limit for how much time you spend answering phone calls, emails, or attending meetings, etc.
It's not just about having your belongings and surroundings organized. Having an organized state of mind is also vital for time management.
People with top leadership qualities motivate others to achieve their goals.
Time-Bound activities
While working or finishing up a task, start keeping an eye on the watch. Doing time-bound activities helps you to avoid unnecessary wastage of time.
Don't Multitask
People who multitask are often found accomplishing nothing. It is better to take up one thing at a time i.e. finishing the task at hand first. This will help you focus all your energy and thoughts in one place.
As a result, you will not waste time on multiple things at once. Which, in turn, will improve your efficiency as well.
Chuck Procrastination
Those who procrastinate always end up having a big pile of To-dos. The list of To-dos becomes endless and attributes to work pressure and anxiety. It is always better to finish off urgent and important tasks rather than shifting them to the next day.
Healthy Habits
Develop healthy habits like exercise, meditation and consuming a healthy diet. Bad habits will only make you less productive. Setting time for such healthy habits will help you to have a healthy body and mind. This, in turn, will improve your efficiency.
Do not Brood over Past
If you are upset and stuck with some past failures then you're definitely wasting a great amount of time. Smartness is to let to go of the not so good times and derive learning. After all, life is all about learning from the past and planning for the future.
Keep your Company Good
Your company has a great influence on you. Therefore choose your company wisely; stay away from time wasters, who do not have major goals in their life. When you are in the company of people who manage their time well, your outlook also changes.
Why Time Management is Important?
Reach your goals faster
The biggest advantage of managing your time better is that you achieve your goals faster. All young-successful entrepreneurs have one common trait – time management. They keep a track of time and avoid time wastage.
Increased opportunities
Once you know how to manage your time, you will see that there are more opportunities than you can explore and identify the areas that interest you.
Search All Current & Upcoming Jobs. Click here to find over 4 Lakh+ Job Postings in India.
Stress Relief
One of the major reasons of stress today is work. If you meet deadlines and stay focused, there won't be any work-related stress. Effective time management will get rid of your stress level.
More Time
Nowadays, each individual complains about less time. Less time to pursue passions, relax, spend time with family and a lot more. Imagine that you have all the time to do what you always wanted to. Time management gives you the perk of increased bandwidth.
Proper time management helps you prepare smart goals as well. Hence, you can further read on preparing smart goals.
What if you don't manage your time well?
Low Satisfaction
Work satisfaction is one of the biggest traits of happy professionals. If you can't manage your time it will lead to low efficiency which, in turn, will lead to low work satisfaction.
Poor Workflow
Poor time management leads to poor workflow. It sets you off from being efficient, which leads to lower output levels and adds to work stress.
Losing Control
If you don't manage your time well, then it's obvious that one day you will lose control of people and situations around you.
Bad Reputation
Managing time in an improper manner or wasting a lot of time affects your reputation negatively. Your teammates or subordinates who should get inspired by you will be discouraged from seeing your ineffective time management. To sum up, you will set a bad example for your counterparts and subordinates.