Saying goodbye is tough regardless of the situation you might be in. Deciding to leave your job is not a simple process. It involves a lot of formalities and procedures. The very first thing you need to do is submit your resignation letter. Since it is an official document, you are supposed to follow the resignation letter format.
A resignation letter shows your intention to leave the job. In most companies, there is a notice period that covers a certain number of days of work that you have to complete before leaving the company. This time period may range from a week's notice to three months. But the question remains, how to write a resignation letter?
Also, find similar blogs with samples, tips, & format:
While Writing The Resignation Letter
It is important to know how to write a letter because it plays a very crucial role and it will decide your future relationship with the company you're about to leave. So by following the ideal resignation letter format, you can write your letter in a simple as well as translucent way. You should not sugarcoat your intent, it should be as clear as water.
This decision should be discussed thoroughly with your near and dear ones because we have to agree that not everyone is a risk-taker in life and especially when the career is at stake. Also once you have cleared your intention in your resignation letter, there is no going back. So the resignation letter format should be in such a way that you leave no bitter memories behind.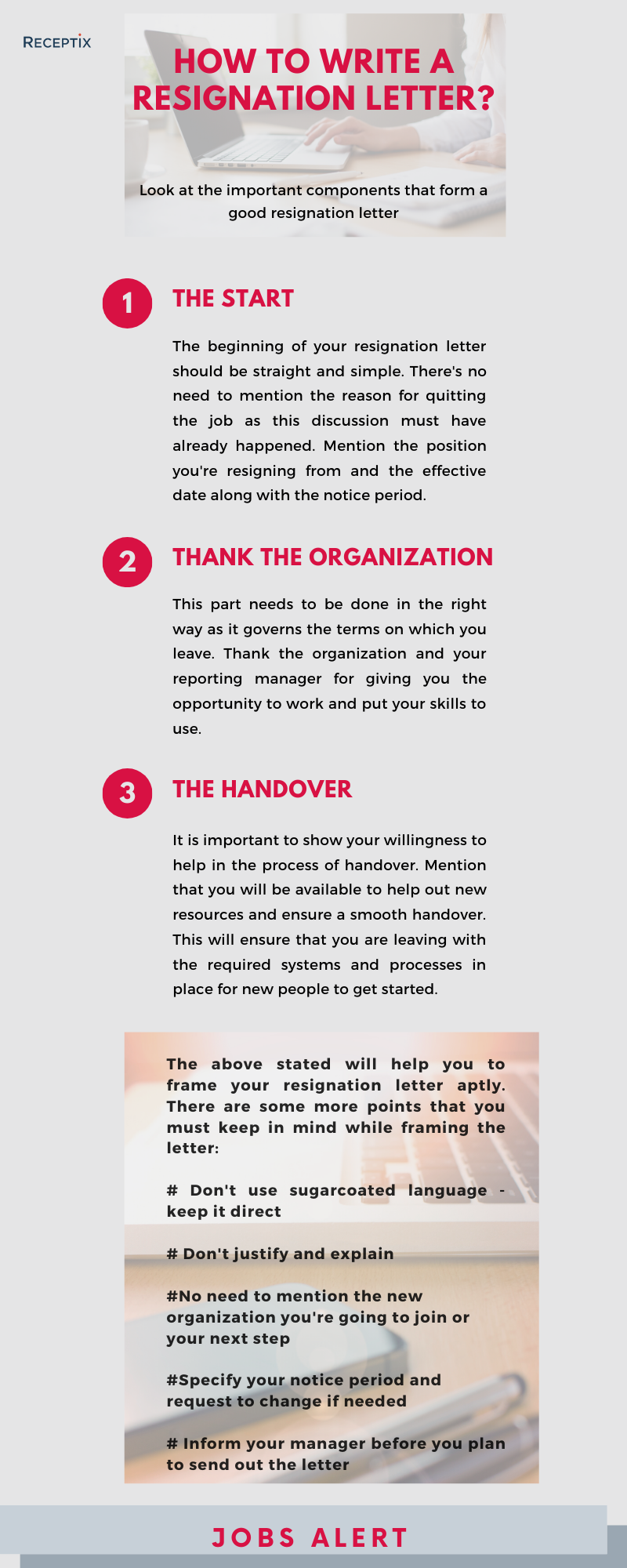 Instructions That you Must Follow While Preparing A Resignation Letter Format
Keep It Simple
Whenever we are writing any letter, our focus should always be on how to make it simple. Here we will be discussing how to write a simple resignation letter. The resignation letter should be as simple as possible. Your grudges should not reflect in your letter because the world is a small place and you never know in which situation you might encounter your former colleagues so it's better to end the journey on a positive note.
Include Important Information
The resignation letter format can be considered as a guide while writing the letter. It should contain the position from which you are resigning along with your last working day. Generally, the notice period is of 2 weeks and you should adhere to it.
Avoid Emotional sentences
Sometimes your colleagues become an important part of your life with time but that does not mean that you will not go for new ventures. You have to leave the nest someday no matter how comfortable it is. As per the ideal resignation letter format, you should avoid any emotional or overwhelming sentences. Keep things professional.
A Formal Thanks
Take this as an opportunity to say a formal thanks to your boss and colleagues. Talk about your experience at the organization. Talk about the different ways this job provided you with learning opportunities. And how it has allowed you to grow not just professionally but personally too.
 Smooth Transition
You must mention all the ways through which you can provide help in your smooth transition. If you're at a higher position, always consider it as your duty to help the people to know all the processes that you might have been doing till now. You can mention that you can provide the necessary training if needed so that they don't have to face any issue after you have left the company.
Wrapping Up Resignation Letter Format
End your letter of resignation on a positive note by thanking all the people in the company for always taking out time to solve your queries and doubts. It is important to leave the company on good terms. Mention your contact information at the end with the intention of staying in touch with people. Mention that it was an absolute pleasure working with each of them.
Professional Format
You must check that your resignation letter shouldn't contain any typos, grammatical mistakes or spelling mistakes before you send it to your manager. So by following an ideal resignation letter format, you can avoid the pain. There are thousands of resignation letter templates available online that can be used to draft one.
Search All Current & Upcoming Jobs. Click here to find over 4 Lakh+ Job Postings in India.
Sample Resignation Letter
Dear Mr./Ms. [Name of the recipient],
Please accept this letter as my official resignation as [Job title] from ABC company. According to the contract, my employment will be ending on 1st February 2020. I'm really thankful for the opportunity that I've been given.
It's been a rewarding and fruitful journey of 6 years with the organization. In this long span of time, I have learned to work on so many software and became proficient in most of them. Thank you for giving me the opportunity to work for your company.
I'll try my best to wrap up my duties in the coming few days and also train other team members of the team so that there's no hindrance of any sort after I leave the organization. Please let me know if there's anything else I can do to help during this transition to make it as smooth as possible.
I wish my colleagues the best of luck in their future endeavors, and I hope to hear more success stories of the company in the future.
Sincerely,
[Name of the employee]
Related Posts: