A lot of people think that what is the need to submit a job application when you are already submitting a resume? Especially while applying for a teaching job. A job application letter for teaching lets you introduce yourself in detail. It gives the hiring manager a chance to get to know about the applicant in ways that can never be accessed through a resume.
An application for teaching jobs helps you to describe yourself as a professional. Write down your skills and state why you can be fit for the role. Focus and revolve your skills around the job description for the teaching post.
Points To Remember While Writing Application For Teaching Jobs:
1- Commence writing your job application by stating why you are interested in the job. But always remember to not keep the introduction too long.
2- In the second paragraph, state why you think you are suitable for the job. Give a preview of your educational background.
3- Remember to include important details about your education.
4- If you are an experienced teacher, add details about your work experience. This will be the highlight of your job application.
5- Remember to mention your skills, qualifications, teaching experience, etc in bullet points instead of body paragraphs. Bullet points are necessary for a professional resume.
6- Conclude the last paragraph with your details like your name and contact information.
The Dont's Of How To Write Application For Teaching Jobs:
1- Do not forget to or hesitate in including your contact information. With your personal information included, it gets easy and convenient for the employer to reach out to you.
2- Avoid any kind of grammatical mistakes or punctuation errors. Always go through the application twice before submitting it finally.
3- Do not forget to attach your resume to the job application. Always keep a copy of your resume as a google doc handy.
4- You should apply for a job only when you are qualified and suitable for it. Do not apply to random job openings which are irrelevant to your work experience or educational background.
5- Do not neglect to write a cover letter with your job application. It is always an added bonus to send a teacher cover letter with your resume and job application. There are many cover letter samples and cover letter templates on the internet that you can use to your benefit.
To help you through the process of application for teaching jobs, here are a few samples of different application letters for teacher posts:
Job Application For Teaching Jobs As an Elementary School Teacher
Subject: Application for the position of Elementary School Teaching Position
Dear Ma'am/Sir,
I am writing to inform you that I am interested in the primary teacher job position at your [School Name, School district]. I graduated with a bachelor's degree from the University of Delhi in 2014. Thereafter, I concluded my Bachelor in Elementary Education. In the year 2017, I cleared the national-level CTET.
Currently, I am employed as a Science Teacher at XYZ School. I have been a primary member of the XYZ Institution since 2017. I was responsible for students of grade I to grade V. My skills and experiences of coming up with different lesson plans in my 2 years will be a great addition to your institution.
Feel free to check my work as well as my educational background in the attached resume. I am hereby attaching the same. Thank you for your time. I am also including my contact details and look forward to hearing from you.
Thank You.
Sincerely,
Rupa Mishra
Phone Number: 98xxxxxxxx
Email: [email protected]
Job Application For Teaching Jobs As a High School Teacher
Subject: Application for the position of High School Teacher
Dear Ma'am/Sir,
This is in regard to the job vacancy of a High School Teacher job post at your institution. I would like to apply for the same. I am a post-graduate in English and have also completed my Bachelors in Education. In addition, I have also cleared the national-level CTET Exam.
Since 2016, I have been teaching English to the students of grade XI and XII. I have always made sure that the students learn better if the lessons are relatable for them. I am familiar with the latest teaching trends that will be beneficial in this field. They also help keep the students interested and motivated to keep learning.
I look forward to hearing from you. I am sure I will be a good addition to your team because of my ability to build a relationship with the students.
Thank You.
Sincerely,
Epshita Mukherjee
Phone Number: 98xxxxxxxx
Email: [email protected]
Click Here to find: High School Teaching Jobs
Job Application For Part-Time Instructor/Teacher
Subject: Application for the position of Guitar Instructor
Dear Ma'am/Sir,
I am honored to present my resume and certificates to you for the opening of the guitar instructor. It is a great initiative that your school has decided to provide guitar lessons to students who are interested in music. I am a hardworking and dedicated teacher.
I have completed my Diploma in guitar from ABCD College of Music. Giving guitar lessons with joy is my passion. I have worked as a hired instructor at XYZ School for two years.
I am well versed with three forms of guitar, Electric, Acoustic, and Bass. At the initial level, I was also the president of the Music Society of my college.
My greatest asset perhaps is that I engage with the students while teaching them. I would request you to go through my resume for further details about my experiences. I am hereby attaching the same.
Thank You.
Sincerely,
Raghav Mittal
Phone Number: 98xxxxxxxx
Email: [email protected]
Click Here to find: Part-Time Teaching Jobs
Job Application For Subject Teacher (Economics)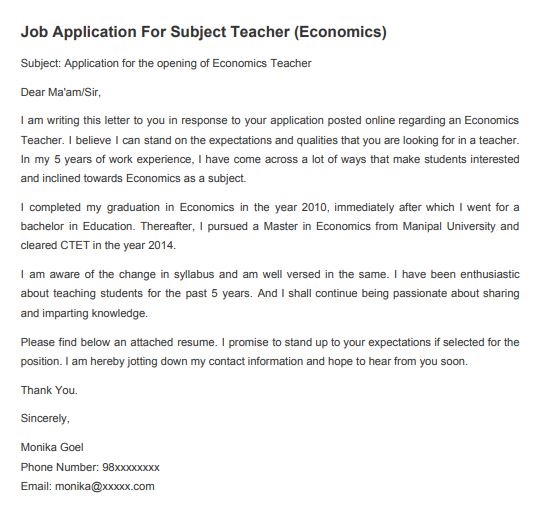 Job Application For Extra-Curricular Teacher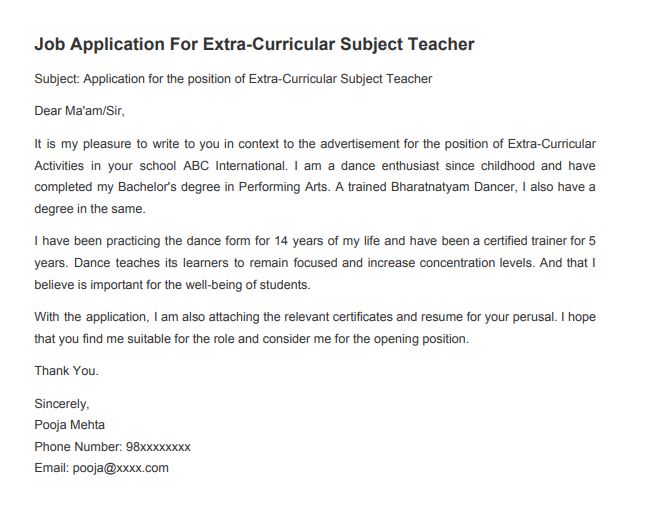 Job Application For Special Education Teacher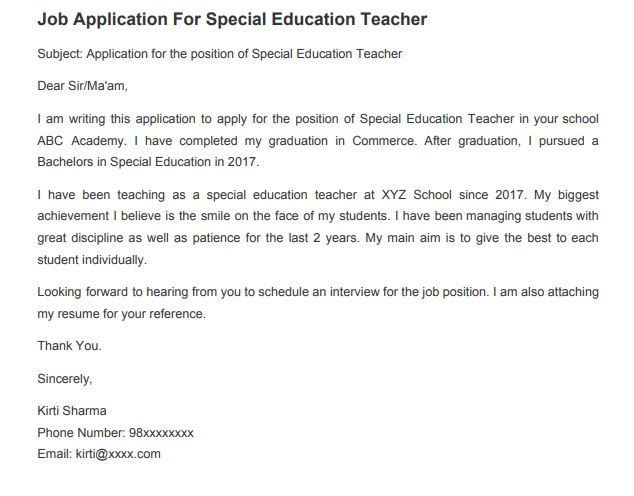 Job Application Letter For Tuition Teacher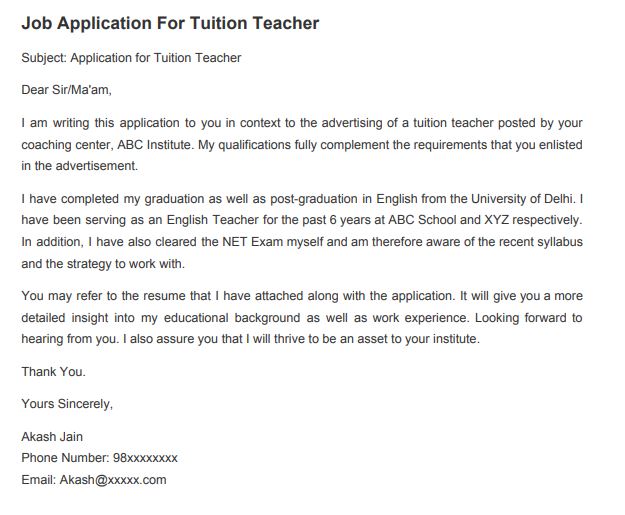 Job Application Letter For Teaching In College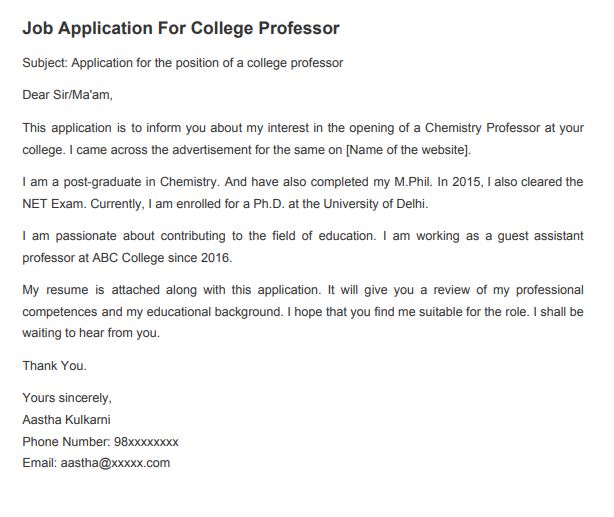 Click here to find: 2000+ College Professor Jobs